For Sale
Accessories
All prices below are listed in U.S. dollars. We accept payment by personal check, bank check, money order, or wire transfer. Credit card payment is also accepted through PayPal. Please call (410) 817-9181 or email jacques@gypsyguitars.com before sending any payment.
Savarez Argentine New Concept Strings
We import Savarez Argentine New Concept strings from France. These are the strings used by almost every gypsy jazz guitarist in France.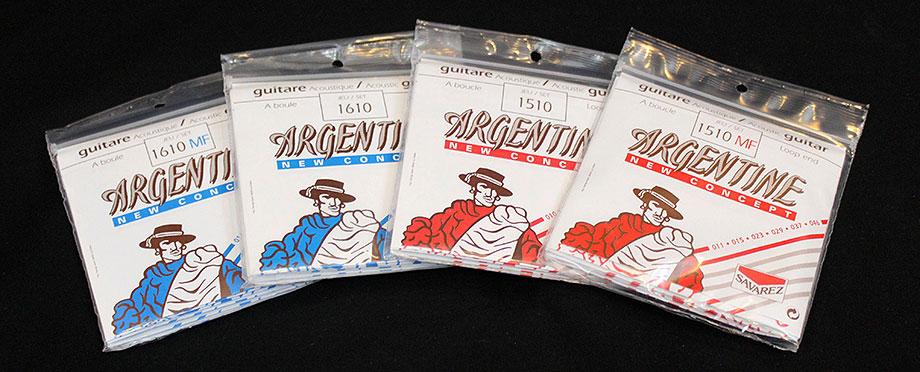 Contrary to popular myth, these are not silk and steel strings. Rather, they are copper wound strings plated with silver.
1510 loop end light (.045, .036, .028, .022, .014, .010)
1510MF loop end medium (.046, .037, .029, .023, .015, .011)
1610 ball end light (.045, .036, .028, .022, .014, .010)
1610MF ball end medium (.046, .037, .029, .023, .015, .011)
Please specify gauge when ordering.
Minimum string order is 10 sets for $90.00 plus $10.00 express shipping and insurance.
Vintage Vertigo Magazine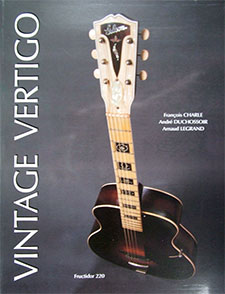 Here is a copy of the new "Vintage Vertigo." Edited in France, it's 130 full-color pages. This gorgeous archival magazine is published by François Charle, Andre Duchossoir and Arnaud Lagrand with articles on Bortolo Busato, Henri Selmer, Pierre Fontaine, a custom Favino, and your's truly. More articles cover Gibson, Fender, Levin, Silvertone and More. This is a wonderful opportunity for you francophiles to practice your "francais."
130 pages of intelligent text, gorgeous photos, and not one single advertisement!
$30 plus postage (which varies with speed and destination)
The Story of Selmer Maccaferri Guitars
The long awaited reprint of François Charle's "History of Selmer Guitars" in the English version.
This book features 255 page of full color photographs in a softcover binding.
$100 plus $12 for "priority" delivery with insurance in the lower 48 states. Shipping is more for other destinations.