Patrick Saussois
I am very fortunate to have had the opportunity to purchase Patrick Saussois' Custom Lefty Favino. Jean Pierre built in 1986, custom inlaying his initials on the tailpiece and dedicating it to Patrick on the label.. Patrick passed away recently. He was the most famous Gadjo Lefty guitar player.
Instrumental in the promotion of many modern and famous players, as well as creating his own " Djaz" label. He was a dear friend.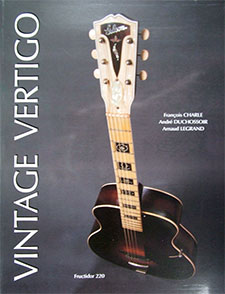 Here is a copy of the new "Vintage Vertigo." Edited in France, it's 130 full-color pages. This gorgeous archival magazine is published by François Charle, Andre Duchossoir and Arnaud Legrand with articles on Bortolo Busato, Henri Selmer, Pierre Fontaine, a custom Favino, and your's truly. More articles cover Gibson, Fender, Levin, Silvertone and More. This is a wonderful opportunity for you francophiles to practice your "francais."
130 pages of intelligent text, gorgeous photos, and not one single advertisement!
$30 plus postage (which varies with speed and destination)
To put an end to years of misinformation, Arnaud Legrand writes an article about "Bortolo Busato"--who's name is finally clarified as well as his birth--not in Sicily--but in the very north of Italy.