What's New
"This outfit turned up recently in central France, featuring a brand new condition di Mauro Chorus, equipped with an ST 48 Stimer Pick up with the original cord and an equally near new condition Stimer Amp "Modele M 10" with dual voltage selector 110/220. A once in a lifetime opportunity to own a complete near new gypsy rig that is 65 years old..!!! price $8500 SOLD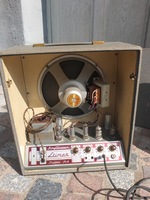 Amp Back Open
Back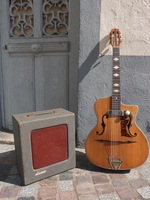 Front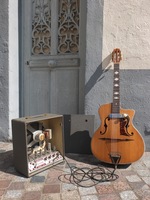 Front with Amp Open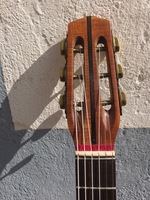 Headstock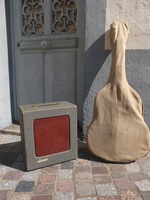 In Case with Amp
Three generations of string pockets.

Patrick Saussois
I am very fortunate to have had the opportunity to purchase Patrick Saussois' Custom Lefty Favino. Jean Pierre built in 1986, custom inlaying his initials on the tailpiece and dedicating it to Patrick on the label.. Patrick passed away recently. He was the most famous Gadjo Lefty guitar player.
Instrumental in the promotion of many modern and famous players, as well as creating his own " Djaz" label. He was a dear friend.
This one is really special: